Large beautifully designed back yards with space to stroll use to once be the norm for a home garden but inner-city living has led to small courtyards or balconies. These spaces are often forgotten about and are hardly used but compact outdoor areas can be every bit as aesthetically pleasing as their sprawling counterparts.
Are you looking for a professional Small garden design? contact us!
Just because it's a small space does not make it easier to design. You need to first decide what your primary use for the garden will be. You may wish to have a spa, BBQ and pergola but you might not be able to practically fit all that in your small garden.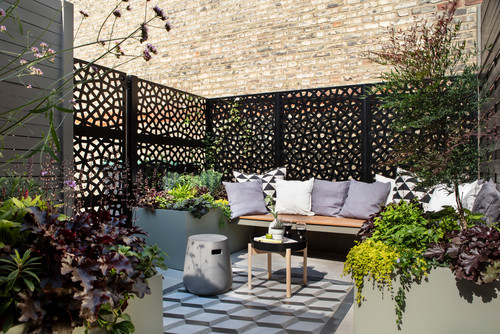 To make the most out of your small space choosing items that serve more than one purpose and will have a big impact without taking up too much space. For example, a bench that doubles up as a storage box to store garden equipment. It's also smart to select furniture that is easy to move and store, such as collapsible tables and chairs.
Vertical gardens are a space-saving solution, and a fantastic way to soften a hard wall. Many vertical garden systems exist on the market and make it easy to install and maintain. Optionally you can use climbing vines to create the same effect.
Statement pot plants can drastically change the look of a garden and are a great way to start. They are also the best way to add style to a balcony. Pay attention to the type of plants and the size of pots. If you are in the direct sun then use a hardy plant in a large pot. the larger pot will help retain water and nutrients longer.
Give thought to the materials used so it simlessly intergrates with the existing archutecture of your home.
When it comes to selecting plants for small gardens use plants that won't become overgrown or have invasive root systems. Make sure to select plants that will suit the conditions of light and moisture that exist in your small garden.
Dont forget to add garden ligting to make the most of your spcae.